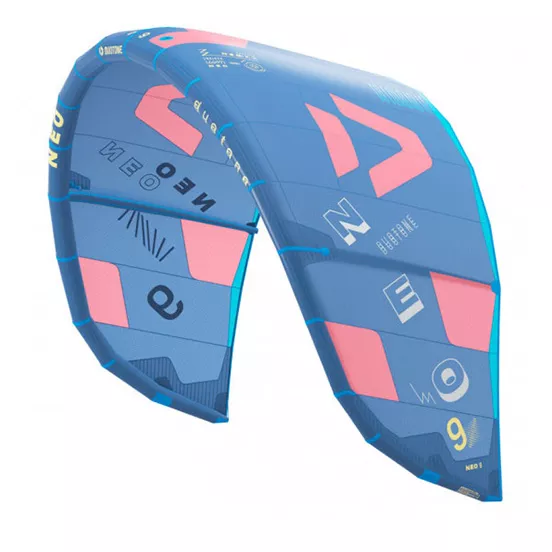 NEO IS THE REFERENCE FOR KITESURF IN THE WAVES, WITH INCREDIBLE DRIFT, TOTAL CONTROL, AND CAPABLE OF GETTING YOU ON THE HIGHEST PODIUM MARKET IN WAVES AND STRAPLESS FREESTYLE COMPETITIONS. IF YOU'RE RIDING A SURF BOARD, THIS IS THE WING YOU NEED, PURE PERFORMANCE AND INCREDIBLE DURABILITY.
The Neo has more championships and awards to its credit than any other wing on the market. It has been at the forefront of the surfboard movement in kitesurfing from the very beginning, and that won't be changing anytime soon. A set of unique features combine to make it the best wave riding and strapless freestyle kite on the market. First of all, the legendary drift allows you to ride the waves the way you want, concentrating on your turns rather than worrying about the kite. This is also useful in onshore conditions where slack lines are a regular occurrence; the kite will stay in the air, giving you time to put tension back into the lines. When the wind is cross-onshore, you need a kite that can turn quickly as you draw your lines into the face of the wave; once again, the Neo is up to the task! It's dynamic, responsive, turns fast and changes direction almost instantaneously. Thanks to the multiple adjustments on the tips, you can also adapt the kite to the conditions of the day; during a strapless freestyle session on flat water, set it for maximum pop and powerful loops. Tear through the waves, set it for maximum drift and fast rotation speed. The Neo's real strength is the power it delivers across the wind range; it has plenty of low-end power, which means you can use a smaller, more dynamic kite. The upper range is huge, with plenty of depower, allowing you to have a 2-3 wing carver to cover most wind conditions. 
If you really want to ride a surfboard, whether to rip waves or boost airs, the Neo is the only kite you'll ever need.