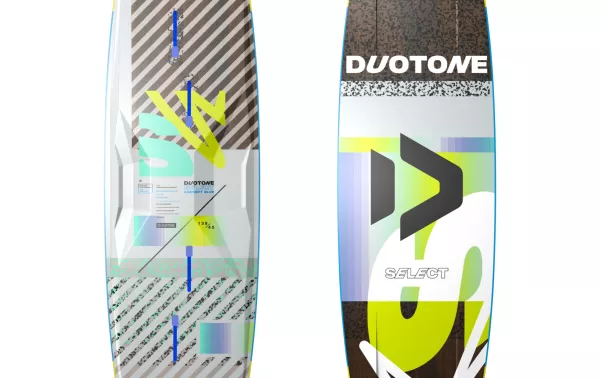 With a new shape and construction for 2024, the SELECT becomes one of our first twin tips to join duotone's concept blue range. Thanks to the use of more sustainable materials in the construction process and a new design, the SELECT takes things up a notch for the new season.
New for 2024 is an asymmetrical deck shape, an updated outline and our new Concept Blue construction. Linen fiber combines with Basalt stringers to deliver a supple yet engaging ride, while using much more sustainable natural materials. The Select is the perfect choice for riders who want to enjoy cruising and big jumps on the water. It offers exceptional comfort, performance and speed that will excite you every time you hit the water. The asymmetrical deck concentrates the flex characteristic on the board's back edge, improving the overall pop of the board. The wider Space Flex on the ends provides additional damping, giving the board a suspended feel without compromising its performance. The Select is also a great board for light winds, gliding very early while offering plenty of power and performance when needed.  
If you're looking for a freeride board to help you ride earlier, make your sessions smoother and let you jump higher, try the new Select!!